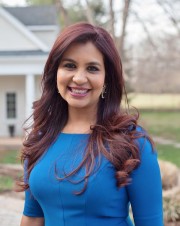 Smitha Ramchandani has just been honored with one of the most prestigious real estate awards in New Jersey - naming her one of the best brokers throughout the Garden State and best agent in Morris County.
Morristown, New Jersey, May 7, 2015 (Newswire.com) - Smitha Ramchandani has just been recognized with the highest recognition award any realtor can receive – the NJ Association of Realtors Circle of Excellence Platinum Level Award.
This is the third consecutive year that Smitha has been honored with the NJAR Circle of Excellence Platinum Award, placing her in the top 0.5 percent of all New Jersey real estate agents. Her company is also ranked #1 in Morris County in market share – with the largest residential real estate company in the USA – Keller Williams Realty.
"Customer service is always our top priority. Each customer has a unique situation and we work hard to meet everyone's individual needs. Our job is to make sure you get complete and accurate information, and the honest advice you need to make a good decision."

Smitha Ramchandani, Award Winning Real Estate Agent
But Smitha's real estate success didn't happen overnight.
Her business pursuit began in Bombay, India – where as a teenager she began managing three hair salons with her Mom. At the age of 24, she left India for Morris County with nothing more than an American dream and drive to succeed in business.
Smitha has more than 19 years of experience selling real estate in New Jersey. She's closed on more than 900 homes worth $320 million in sales. In 2013 and 2014, Smitha and her team closed 140 transactions, while the average realtor closed between 10-12 total transactions.
She accomplished this by focusing her time and energy on her clients while allowing her team to execute the details that lead to a successful showing and sale.
Smitha has also been honored with more than 350 national, state, regional and company award, including the New Jersey Association of Realtors Distinguished Sales Club Award. She was also named by National Relocation and Real Estate Magazine as one of the country's 50 best real estate agents.
You can read more on Smitha Ramchandani and her team's experience with real estate sales at www.SRRealEstateGroup.com.
For media inquiries, please email Aydan@maciaspr.com
Share: